Posted on July 18, 2022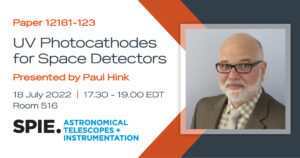 Presentation Mr Paul Hink – UV Photocathodes for space detectors
18 July 2022 • 17:30 – 19:00 EDT | Room 516
Abstract
We present test results of next generation high QE photocathodes appropriate for use in a wide range of FUV and DUV astronomy and remote sensing. A newly developed opaque CsI photocathode deposited on microchannel plates and sealed into vacuum photodetectors with a Magnesium Fluoride input window demonstrates QE of > 16% @ 130 nm. An optimized transmission mode solar blind (SB) alkali-telluride photocathode demonstrates 29% peak QE and 1E3 suppression of NUV and visible light, a significant improvement over previous alkali-telluride photocathodes. Finally, we present data from a new high QE S20 alkali-antimonide photocathode with > 40% QE at 254 nm, suitable for instruments requiring wideband DUV through VIS coverage. Improvements in collection efficiency of vacuum photodetector MCPs from 60% to 90% will also be presented, providing a further 50% boost to detective QE.
Presenter
Paul Hink
Photek USA LLC (United States)
Paul Hink is VP of Business Development and Strategy of Tibidabo Scientific Industries (USA), Inc, which includes Photek Ltd, a UK based company that manufactures vacuum-based image intensifiers, photomultipliers, and streak tubes.